Here's how the corona-virus is affecting Canada's labour market
The shutdown of non-essential services to control the spread of COVID-19 has had severe economic consequences in Canada, including the loss of nearly two million jobs in April.
As economists, we are analyzing the effects of COVID-19 on Canadian labour markets in an ongoing research paper by asking the following questions:
What are the short-term impacts of COVID-19 on unemployment, hours and wages?
Do the economic consequences vary across demographic groups, union status and immigration status?
Are there larger effects for occupations that are more at risk of contracting the virus?
Are there smaller effects for individuals who can easily work from home? What is the impact on the labour market for essential workers?
Which occupations and industry are seeing the biggest changes in economic outcomes?
Understanding which workers are most affected by the coronavirus economic shutdown will help guide policy and Canada's economic recovery.
The hardest hit
COVID-19 has had a severe impact on Canadians in terms of unemployment rates, hours worked and labour force participation — the proportion of the adult population currently employed or seeking employment.
Job losses have been staggering. The unemployment rate more than doubled to nearly 14 per cent between February and April.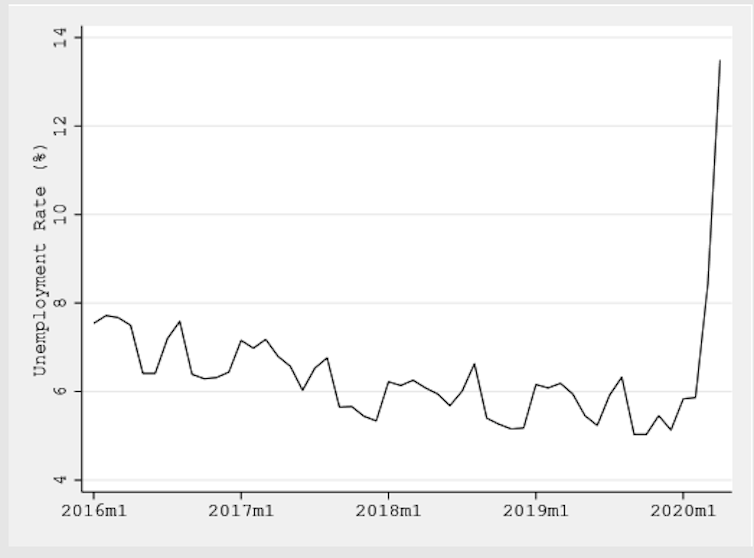 But this measure is an understatement of how dire the situation is — labour force participation fell by five percentage points to 59.8 per cent over the same period. These individuals aren't included in unemployment calculations, which only capture people who are looking for work. This means that a fall in labour force participation translates to people not searching for work. Not only have people lost jobs (increased unemployment), they have also stopped looking for work (decreased labour for participation).
One concern is that COVID-19 might increase existing inequalities in the Canadian labour market. For example, if minimum wage earners lost their jobs, it could affect their ability to pay for rent or other essentials. Knowing which workers are more affected will help guide effective policy recommendations.
Our results suggest that the negative impacts of COVID-19 are more pronounced for workers who are younger, unmarried or less educated. We also find evidence that workers in unions are less likely to be negatively affected. In sum, our results suggest that COVID-19 may be deepening already existing inequalities.
---
Read more: Remote work worsens inequality by mostly helping high-income earners
---
COVID-19 has negative labour market outcomes for both men and women, with no discernible differences between the two, suggesting that the shutdown has not increased gender inequalities. Our results also indicate that women without children have experienced slightly larger job losses, reductions in hours, wages and labour force participation than mothers.
We find that immigrants and non-immigrants similarly experienced a near doubling of the unemployment rate to just below 13 per cent, and a six percentage point decline in labour force participation to just below 58 per cent.
Not only have people lost jobs, they have also stopped looking for work
Essential and remote workers are less affected
To gain further insight into why some workers have been affected by the economic impacts of COVID-19 more than others, we also looked at the characteristics of different jobs.
We built four indices that capture whether workers in a given occupation are regularly exposed to infectious diseases, work in proximity to others, are considered essential workers or are more likely to work remotely. We constructed the indices from various sources, including O-NET OnLine, which gathers information on occupational tasks and adapted them to the Canadian Labour Force Survey.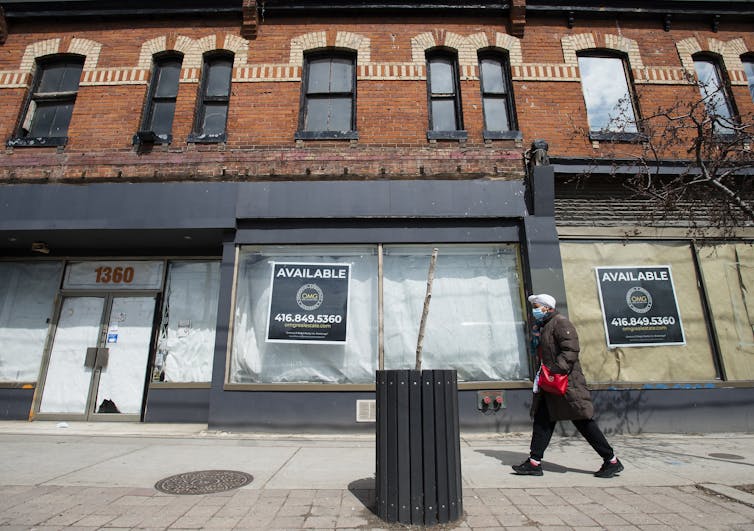 Our estimates suggest that the labour market impact of the pandemic was significantly more severe for workers more exposed to disease and people that work alongside others, such as nurses and front-line workers. These workers were more likely to have COVID-19 related work absences, work fewer hours or leave the labour force. Perhaps unsurprisingly, we also found the effects are significantly less severe for essential workers and people who can work remotely.
Additionally, we find that these occupational differences interact with the inequalities noted above. For example, less educated workers are less likely to work from home and more likely to be essential workers. Women without kids are less likely to work from home, perhaps explaining why they were relatively harder hit by the economic shutdown.
Looking ahead
These results are important given the trade-off elected officials face when making decisions about reopening sections of the economy and preventing disease.
As policy-makers look to help displaced and affected workers, these findings highlight some of those most in need of assistance: the young, the unmarried and those with less education. Our results also suggest that governments should consider promoting policies that encourage businesses to let their employees work from home.
The federal and provincial governments have provided a variety of aid packages to individuals and organizations that should help alleviate financial burdens. A key concern going forward is that this aid could create a disincentive to work, especially among low-income earners. This could have the unintended consequences, increasing long-term income and wealth inequalities. All levels of governments should monitor this closely.
Post-pandemic job market outlook
Like many other countries in the world, the coronavirus outbreak has disrupted the business models in Bangladesh which will have an impact on the employment landscape, and the job market. Many industries are expected to experience a significant effect on jobs, ranging from job creation to job displacement, from enhanced labour productivity to increasing skills gap.
While the change in the job market is inevitable, the question is, how far will it affect Bangladesh as a whole? When asked this question, Shehzad Munim, managing director of one of the largest MNCs in Bangladesh, explained: "Changes in global job market will take place for sure, but may be not so much in the case of Bangladesh. Bangladesh economy is a subsistence economy as majority of the workforce live on the edge and their needs are of basic nature. Last global economic crisis also did not affect Bangladesh economy much. There will be turbulences but not a crash! If we take lessons from the past pandemics, the focus should be to have an able and fit manpower following the pandemic. So, currently, our actions should be on saving lives, containing the virus and making sure the workforce is fit and active after the crisis. 2020 will primarily be a year of just survival for Bangladesh in terms of its population and for businesses. 2021 will open many opportunities and we must be ready for that".
Now, if we consider the imminent global recession and slowdown, some sectors in Bangladesh like the export-oriented companies will be directly impacted. The RMG industry, the backbone of the economy, is already bearing the brunt through disrupted supply of raw materials, delayed shipments, cancelled or suspended orders that led to factory closures. However, due to the fast-changing global landscape and geopolitics, there might also be opportunities coming for nations like Bangladesh.
"Overall, I do not see a massive impact on the garments industry other than an expected consolidation," added Munim who is now serving as managing director of British American Tobacoo Bangladesh (BATB). "Due to the basic nature of the products we make, orders will consolidate to bigger and more efficient factories and smaller and less efficient ones will shut."
These changes will call for focusing on up skilling technical competence of the manpower as well as, its creativity and innovation. Mr. Munim also emphasised the need for upgrading technical skills.
"The need for a technically-enabled labour force will increase at exponential rate and if we are slow in equipping our young generation, then we may just miss the biggest bus for fast-tracking to a middle-income nation," said Munim. "We also need to develop skill for the mid to senior level management. This need is already there as many Indian and Sri Lankan nationals are filling the void, but this void will grow and soon become a Grand Canyon, if we do not take measures fast. Entrepreneurial skill and courage are also something to focus on. In a post-COVID world, we should be courageous enough to create opportunities and not wait for opportunities to come to us".
In the local job market, while the start-ups and small and medium-sized companies have been badly hit by the crisis, the large business houses are also facing the impact. Post-Covid-19, companies will probably be more focused on liquidity and continuity, reducing non-essential expenses, and strategic planning for an uncertain future. This might create a demand for experts, or strategists to help companies revive; financial experts to aid companies plan their cash flows; supply chain specialists to reinvent e-commerce based supply chain; IT specialists and software developers to ensure digital transformation and rolling e-commerce; data analyst and scientists to provide data-based decision-making and predict the trends. Whether one works in a factory or an accounting office in a post-coronavirus world, one needs to be comfortable with the tech tools as well as be able to work with them effectively.
The nature of the change in jobs and skills will depend very much on the industry itself. For example, the financial services sector was already going through a transformation before this crisis as the mobile financial services were taking over the market. This change will only be towards more digitalization and innovation.
Mr. Kamal Quadir, CEO of bKash, the largest Mobile Financial Service (MFS) in the world, emphasised: "While staying alive and keeping a healthy manpower will be the primary objective, the fundamental change will be a nation-building activity. Digital payments, transition from cash on delivery to online payments, wage payments on digital wallets are some of the few shifts that are likely to emerge and sustain in the post-COVID-19 era. Such trends will not only reduce the inefficiencies in the system but also bring in better governance and transparency."
According to Quadir, "Besides, data will be a critical asset. With the right data, companies are able to better predict the impact of future business disruptions and are better able to serve customers with the right products and services during or after any pandemic. In order to use the data effectively, young bright talents with data literacy skills will be needed so they can take better informed decisions".
The media and the entertainment industry have gone through a significant change over the past years which has only accelerated during the lockdown. Sales and manufacturing jobs will need new skills, such as technological literacy, data literacy, automation in producing goods and services and innovation in distribution to consumers.
While discussing the particular skills needed in the post covid 19 dispensation, Khaled Mahmud, an associate professor of IBA, University of Dhaka and Director, MGM Consulting Limited, said: "Those who are already equipped with technical skills will be the front-runners after Covid 19. Many opportunities will be realised based on IT platforms in the coming days. Knowledge or skills on artificial intelligence, programming, electronic document management, photoshop, data entry, and customer communication will be of high demand for freelancing."
He also said: "The world has learned the need for health professionals in a hard way. So, the health sector will be booming. A diploma in this sector might be an added advantage. Health workers will be exported worldwide as well. Good governance will be asked for by many corporations to ensure optimum use of resources. In brief, regular professional skills will always be needed but maybe in a different platform and in a different manner. All of us need to stay sharp and keep our eyes wide open".
A number of students in Bangladesh are due to be graduated in 2020 and aspire to enter the job market. Now, many companies are going into hiring freeze and lay-offs, while some have declined offers made to candidates. Campus recruitment and internship are going to be held. While the immediate career path looks difficult and bleak for the fresh young talents, they could utilize this as a learning. Someone who is going to succeed in a post-coronavirus-world will need to be able to adapt to ever-evolving workplace and have the ability to continuously update and refresh their skills.
Amidst all these challenges and opportunities, how should the young generation and the graduating students prepare themselves to adapt and embrace the changing job market, employment and skill development? There are endless free and open online courses available that will help you improve your skills and be more resilient in crisis and disruptive situations.
While discussing how the youngsters should prepare themselves to face the challenges, Mr. Mahmud gave some suggestions for the graduating students: "The most important learning from this pandemic was minimalism. We have learned to live with minimum necessary things; we found out ways of doing business with minimum costs. Our young generation needs to internalise this learning very well. Job cut is inevitable. Finding regular jobs will be difficult for fresh graduates. Competition for white collar jobs will be fierce. As working from home has become a norm, a salary cut will also happen. These should not frustrate the younger generation. They should prepare themselves for these changes. Covid-19 will also bring lots of opportunities for our service industry. They should change their mindset set from getting a job to being an entrepreneur. They should use phones to cultivate their useful networks for opportunity rather than spending hours in social media. Our young generation should practice the habit of a healthy diet and regular exercise as well. These will boost up their morale".
While one needs to pursue the desired job or career that ensures prosperity and success, at the same time, one would also need to prepare himself/herself to face the challenges and uncertainties and grab the opportunities to learn to learn from failures, from challenges and disruptions and apply them to move ahead.
Dr. Melita Mehjabeen is associate professor at the Institute of Business Administration (IBA), University of Dhaka.